If you're looking to experience the multicultural city that Singapore is, you can't miss a trip to representative spots such as Little India and Chinatown.
1. Chinatown Complex
Chinatown is home to a few Michelin Starred food stalls at very budget-friendly prices. You can't miss Hawker Chan Soya Sauce Chicken Rice and Noodle, one of the first hawker stalls in the world awarded one Michelin Star. Of course, it's also your one-stop destination to try all kinds of iconic Singapore local dishes.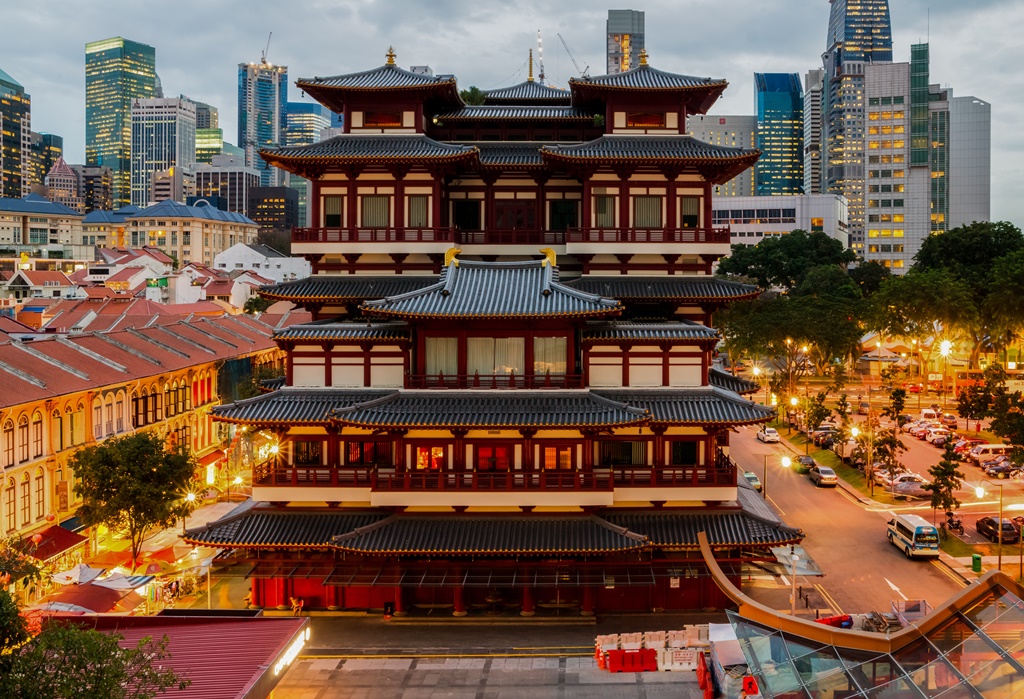 2. Buddha Tooth Relic Temple
Not quite like a normal temple, the five-storey Buddha Tooth Relic Temple resembles a pagoda incorporated with red and gold. Apart from the massive collection of artefacts, check out the solid gold two-metre high stupa where the sacred tooth relic is preserved. While you're at it, avoid entering the temple in shorts, shirts, sleeveless, and backless tops. If need be, use a shawl to cover up before entering the temple.
3. Sri Mariamman Temple
A three-minute stroll from the Buddha Tooth Relic Temple, make a trip to Sri Mariamman Temple, one of the oldest Tamil Hindu shrines in Singapore built in 1827. Serving as a refuge for new immigrants during the colonial period, the temple now acts as a point for community activities such as the annual Theemithi – a fire walking ceremony – in October.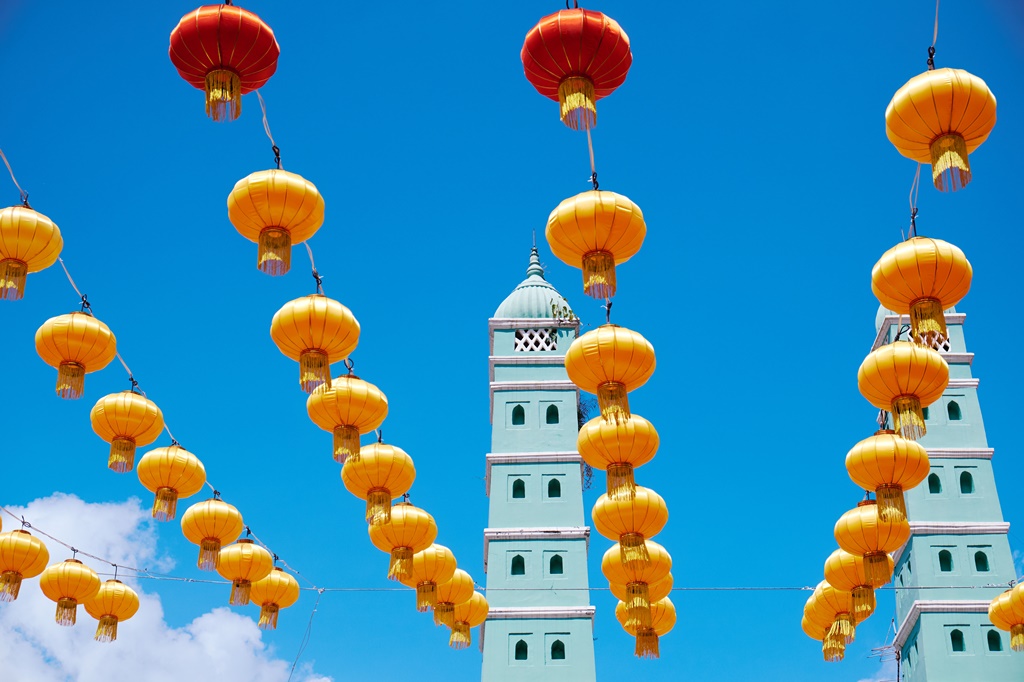 4. Masjid Jamae
Neighbour to the Sri Mariamman Temple, Masjid Jamae (also known as Masjid Chulia) has a history of nearly 200 years. You may recognise it in the early illustrations and postcards of Singapore. It's hard to miss it with its prominent 'twin-tower' design, distinctive front gate, and minarets.
5. Thian Hock Keng Temple
Last on the cultural path is the Thian Hock Keng Temple, also known as the Temple of Heavenly Happiness. It is Singapore's oldest Chinese temple. It is fascinating to know that not a single nail was used in its original construction, which boasts detailed carvings and sculptures of dragons, phoenixes, and deities.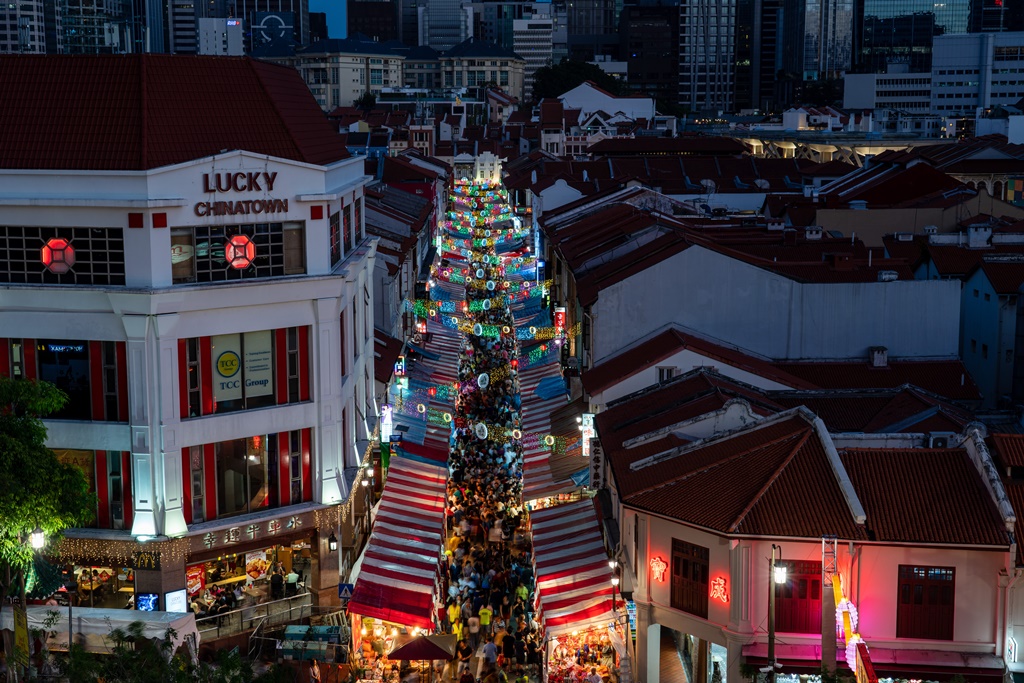 6. Chinatown Street Market
Singapore's not just about glitzy shopping malls. Located between Masjid Jamae and the Sri Mariamman Temple is a pedestrianised area that offers a range of goods, anything from electronics and medicinal herbs, to local snacks and traditional souvenirs.
7. Grab a cuppa of tea
Well, you're in a district with one of the longest histories in Singapore, get yourself a freshly brewed cup of Chinese tea from Pek Sin Choon, a local tea merchant founded all the way back in 1925! From usual teas such as Green Tea and Oolong to more special teas such as Nanyang, Bi Luo Chun and Tie Guan Yin, be sure to smell and enjoy the tea's aroma before taking a sip. By the way, the tea leaves are a great souvenir idea to take home, too.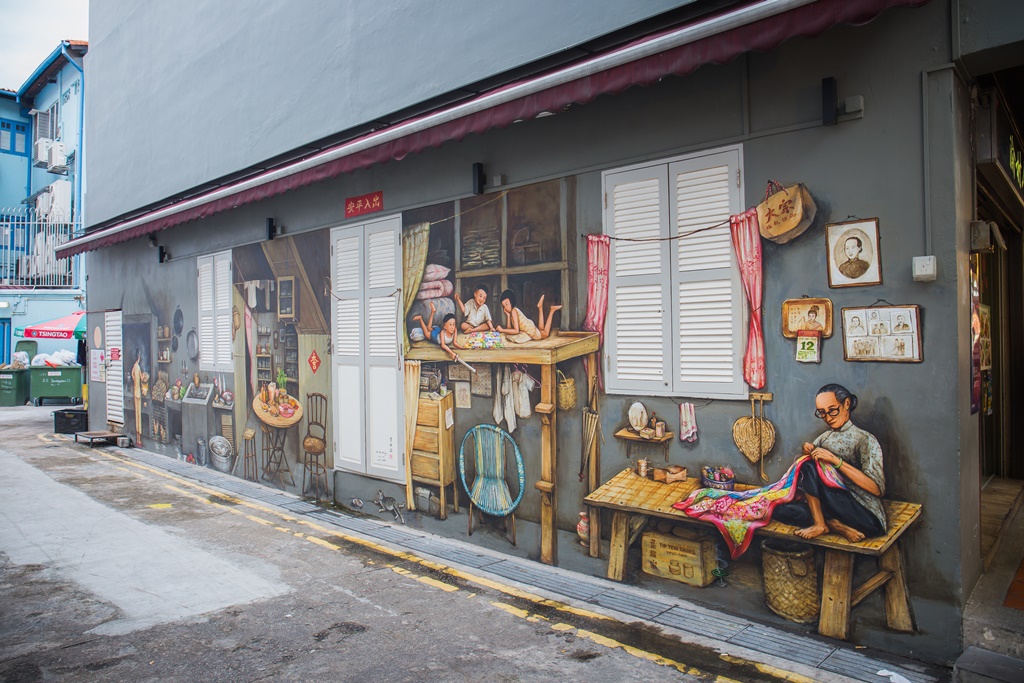 8. Immerse in street art
Take your time to appreciate the Chinatown murals. These are paintings that depict how Singaporeans used to live. Be sure to snap a few pictures for memorabilia.
9. Everton Park
While exploring the murals, you may just get sucked in by the aroma of coffee beans brewing along the way. Located on the edge of the busy Chinatown district lies Everton Park, where some of the oldest shophouses in Singapore are. If you're in the mood for cafe-hopping, you'll find many hipster cafes around the area you can choose from.
10. Keong Saik Road
Just a stone's throw away from the bustling Chinatown is Keong Saik Road, which was once a red-light district. Now, you can find local eats, Australian cafe food, French, and Italian cuisines, as well as some of the best bars in town. A perfect way to end your day!
Bottom Line
With all the activities you could see and experience in Chinatown, you may just find yourself needing some extra fast cash to tide through the days.
If you need an easy and fast loan in the heart of bustling Chinatown, drop by Soon Seng Credit, located just a two-minute walk from Chinatown MRT. We provide personal loans to foreigners as well, with competitive interest rates and flexible repayment terms. Drop by our office or contact us to enquire about our loan services.