Chinatown is located in the heart of the city surrounded by rich cultural and historical places unique to this precinct. It is home to several Hindu and Chinese temples, old shophouses, colonial, and heritage buildings. Food lovers must certainly visit this place as there are endless dining options available in the area.
For those who are staying or working near Chinatown, do you know that there are several top licensed money lenders in the area to serve your financial needs?
Many of us may encounter cash flow problems or financial crises at some point in our lives, and it's always good to know that help is always readily available at our doorstep.
5 Top Licensed Money Lenders in Chinatown
There are many money lenders in Singapore but we have compiled a list of top money lenders in Chinatown, especially for residents looking for one in the area. These licensed money lenders offer competitive personal loans that can come in handy for any financial situation you may be facing.
Check them out below.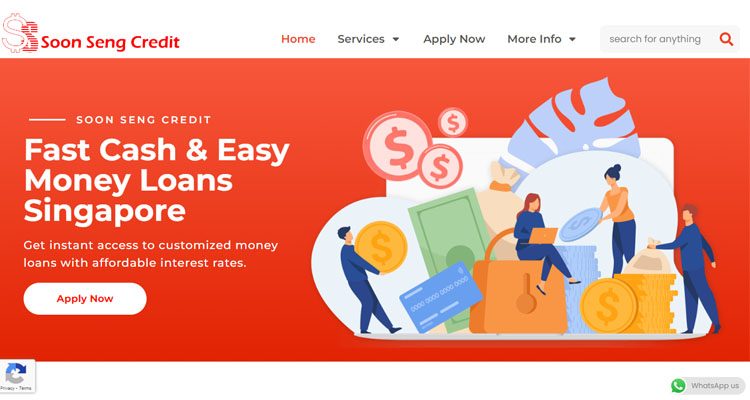 Established in 1985, Soon Seng Credit has been in the money lending industry for 27 years and is known for maintaining long-term relationships with customers, having served 8502 borrowers to date. Made up of a team of highly qualified and committed loan officers with over 30 years of experience in the field, they provide their full clarity of all fees and terms as well as their sound advice.
With their tailor-made and affordable monthly repayment plans, easily apply for a loan online if you're in need of extra cash.
2 . CreditMaster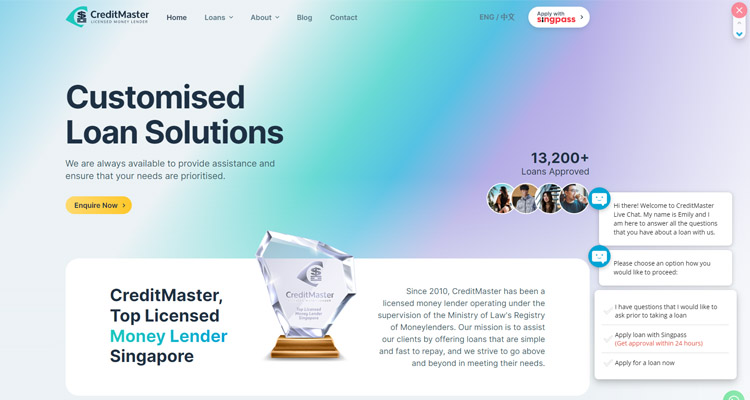 A licensed money lender in Singapore since 2010, CreditMaster's mission is to help their customers by providing loans that are simple and quick to repay, and they always go over and above in addressing their needs. To date, they have 13,200 loans approved. At CreditMaster, loans have up to 36 months loan tenure and come with flexible repayment plans and competitive interest rates. Moreover, applications are simple and quick with Singpass and completed in 2 minutes. Once reviewed by one of their loan officers, get the money easily in 30 minutes.
If you're keen on getting a loan, simply use their personal loan calculator to find out what's the monthly installment, interest rate, and total repayment as per your desired loan amount, loan tenure, and interest rate.
3. ABM Creditz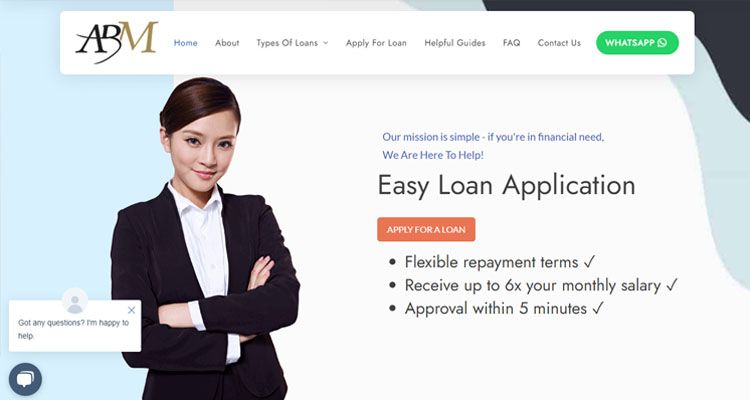 AMB Creditz was founded in 2008 and prides themselves in offering help whenever their customers are in financial need. Holding more than 12 years of industry-leading experience, they have since served over 100,000 satisfied clients and dispensed more than 27,000,000 cash – making them a reliable licensed money lender. Not to mention, they offer loans with flexible repayment terms, quick approval in 5 minutes, and high loan amounts of up to 6 times your monthly salary. 
Don't hesitate to approach AMB Creditz if you're seeking extra funds today – it only takes a minute to apply for a loan, and you can start with a 10 minutes free consultation.
4. A1 Credit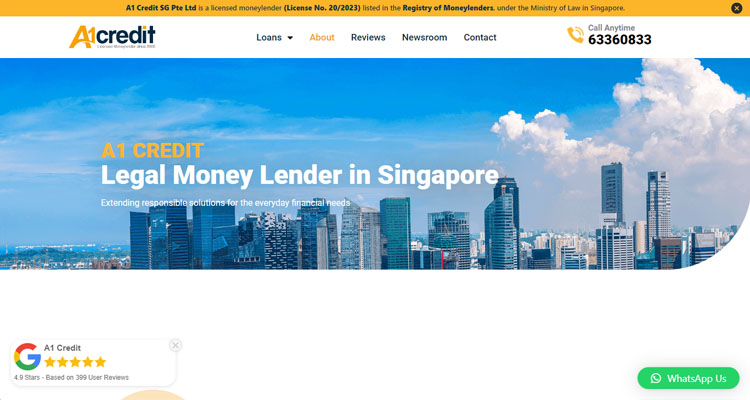 Formed in 2009, A1 Credit is focused on optimising their plans to offer better short-term loans for those with financial needs. This is made possible by strengthening their lending criteria, enforcing a stringent protocol for evaluating individual portfolio risk, and providing training programs for their loan officers on a monthly basis. With their resolve to serve clients over the years, they've won numerous awards for their quality services, such as the Top 10 Licensed Money Lenders in 2020 by LoanAdvisor and Singapore's Outstanding Enterprise SME 150 / 2014. 
Get in touch with A1 Credit via WhatsApp or call, and they'll gladly assist you with any enquiries or your loan application immediately.
5. Horison Credit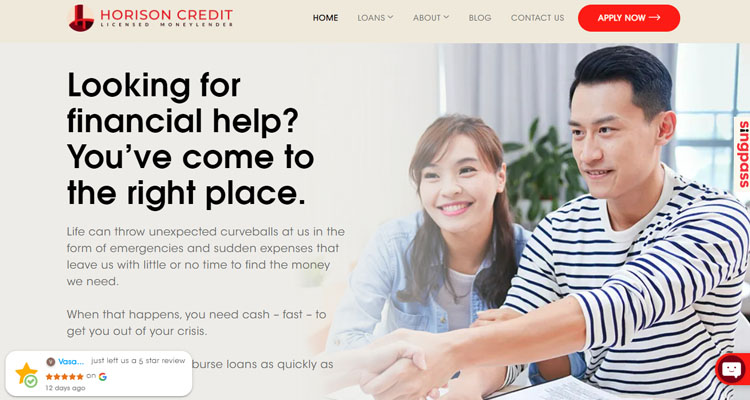 Horison Credit is a registered money lender that was founded in 2008 with one goal – to make it simpler for any individual to apply for a loan. They understand that getting a loan doesn't mean one is in financial difficulty, but they usually need extra cash to tide over an emergency or fund a personal matter for the time being. Horison Credit comprises a team of helpful, experienced, and patient loan specialists who aim to offer loans easily within your means.
With no hidden fees and a fuss-free application in 10 minutes, contact Horison Credit today if you'd like to apply for a loan!
Looking for a loan in Chinatown?
If you are looking for a licensed Chinatown money lender, Soon Seng Credit is here for you. As one of the top money lenders in Chinatown, we pride ourselves on handling every loan with honesty and transparency, which means no hidden fees or clauses for our customers.
At Soon Seng Credit, we set ourselves apart by operating under a strict code of conduct to ensure we offer nothing but the best loans to suit our customers' every financial need.