Do you want to buy a new home, but do not have enough cash to pay the downpayment yet as you have not received the proceeds from the sale of your old home?
This is when a bridging loan can come in handy. A bridging loan is a type of loan used to help bridge the time and the monetary gap between the sale of your old home and the purchase of your new one.
Such loans are meant to be repaid usually within six months and are meant to tide you through until you receive the profits from the sale of your home.
In this article, we will share with you the key facts of a bridging loan.
Who can use bridging loans?
A bridging loan is usually taken out by individuals who are upgrading their property (i.e. selling their existing property and purchasing a new one), but struggling to pay the downpayment for their new property — usually because they have yet to receive proceeds from the sale of their existing home.
A bridging loan can also be utilised by individuals who want to invest in real estate. Such loans will be useful for them as they will need the capital to constantly purchase property.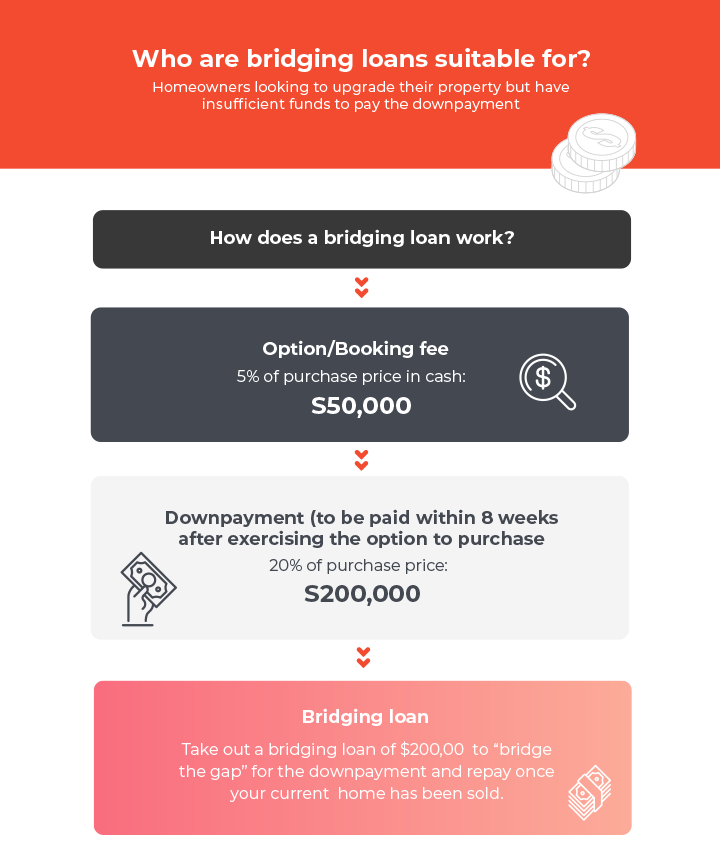 Where can you get a bridging loan from?
In Singapore, bridging loans are offered by most major banks and licensed money lenders.
When searching for a bridging loan that best suits your needs, be sure to only borrow from financial institutions that are licensed, regulated, and granted permission to operate. To check if the loan provider you intend to borrow from is licensed and regulated, you can head to the Monetary Authority of Singapore's website to view the list of registered financial institutions in Singapore.
For money lenders, you can head over to the Ministry of Law's website to view the list of registered licensed money lenders.
Borrowing from licensed and regulated financial institutions will prevent you from being unfairly treated, which may happen if you take a loan from unregulated financial institutions such as unlicensed money lenders.
Get the best bridging loans
If you are a homeowner who is in the midst of purchasing a new property, we understand you might be worried about your cash flow due to the high costs involved in your purchase.
The most important thing you need to do is to first plan out your monthly expenses well and set financial goals – you will then have a better idea of the state of your finances.
After doing so, plan out what you can do to manage these expenses realistically.
If you need a bridging loan, financial institutions such as banks and licensed money lenders will be able to help.
One such established bridging loan provider is Soon Seng Credit, a licensed money lender that offers bridging loans to individuals who require funds to purchase or upgrade their property.
Our bridging loans have attractive interest rates as well as reasonable loan tenures that are tailor-made for our borrowers' needs. Approval time is also fast – you can get your loan within 30 minutes.